About
"Our social reality is one of transition from an archaic order to a new order. Those who create art must strive to include in their work clear ideological propaganda for the people, art armed for combat, that makes people aware of their history and their civil rights. Beauty will nourish their [people's] sensitivity, and art will preserve their rich traditions."  
- El Machete Newspaper, Mexico City, circa 1924

The socialist Mexican newspaper, El Machete, published from 1924 to 1929 in Mexico City, during the shifting political landscape of the Mexican Revolution (1909-1920s). Headed by prominent artists, and labor union organizers who aimed
to challenge Mexico's aristocrats, they utilized the paper as a
"forum...for debate on political issues as well as on appropriate subject matter and form of socially relevant art (Azuela 82)."
Officially launched in 1924 by the workers' union SOPTE, the Sindicato de Obreros Tecnicos, Pintores y Escultores (Union of Technical Workers, Painters, and Sculptors), the paper's authors like renowned muralists like David Alfaro Siqueiros, Diego Rivera, and among other contributors, Xavier Guerrero, argued that
"art and politics were inseparable, like soldiers, farmers, and workers
—the essence of revolutionary power"
(Azuela);
and thus strategically used El Machete as a platform to showcase social-political artwork and to advocate for worker's rights, and fair wages among other ideals in the face of the ongoing Mexican revolution.
These artists argued that besides the written word, the masses of working-class and working-poor could also access knowledge through public art. Mexican muralists Siqueiros and Rivera used both El Machete and public art murals as vehicles to disseminate their ideas, highlight historical events, and advance social criticism and political thought. Scholar Alicia Azuela tells us that
"for [such] artists, this meant making art and culture accessible to all people through public murals and graphics of social criticism and political statement (pg.82)."
It is in this context that the contemporary El Machete brand aligns with the historical, by embracing the ethos of El Machete by exploring contemporary/historical, social, political, and public art themes from Mexico, Latin America, and Los Angeles.
The El Machete brand rises from two things close to my heart, my love for my mother's cooking, and for Mexican and Los Angeles early 20th Century history. We are a Los Angeles based brand and small scale manufacturer of handcrafted chilli sauces and spicy-hot condiments. In the era of individualized consumer preferences, Team Machete creates products for the discerning palate who appreciates freshness, quality, and unique flavor profiles. Our partners and customers range from hot sauce aficionados, vegan-vegetarians, to supporters of start-up businesses, restaurateurs, and mixologists. With our team of three, along with friends and family supporters, we've been building El Machete one bottle and customer at a time.
- Oscar Ochoa, Founder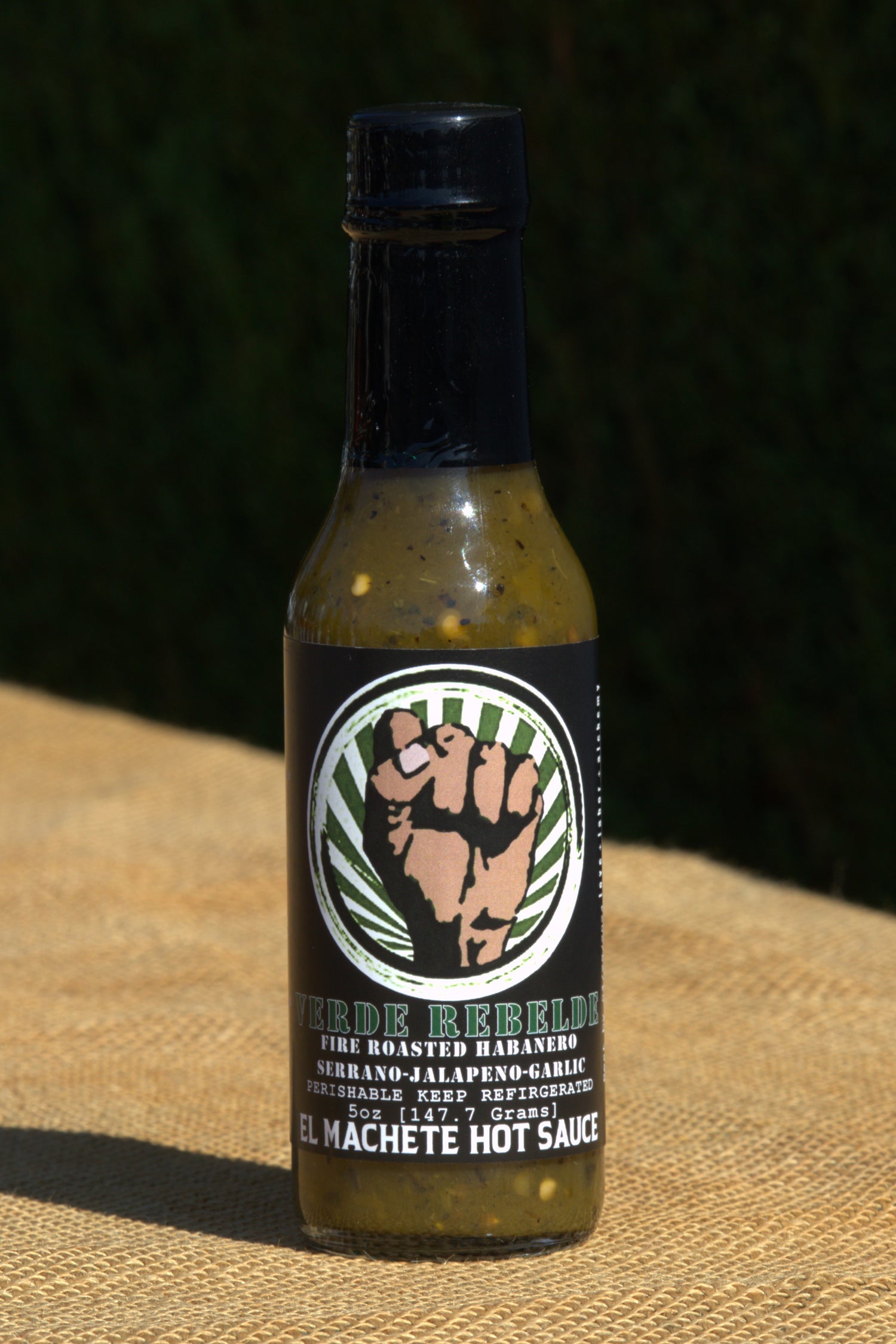 Verde Rebelde
Our Rebellious Green, or Verde Rebelde is our signature sauce, and created from fire roasted Jalapeños, Serrano chillies, and Habaneros to deliver grassy, tangy, and roasted green chilli notes.
It's layered with Mexican style spices, freshly cracked black pepper, charred onion, and Christopher Ranch California grown heirloom garlic. This chunky style sauce is brightened with white vinegar, and seasoned with Kosher/natural sea salt.
This signature sauce pairs nicely with ceviche, white fish, clam chowders, soups, roasted pork, guacamole, Mexican style food, white bean salads, and
appetizers.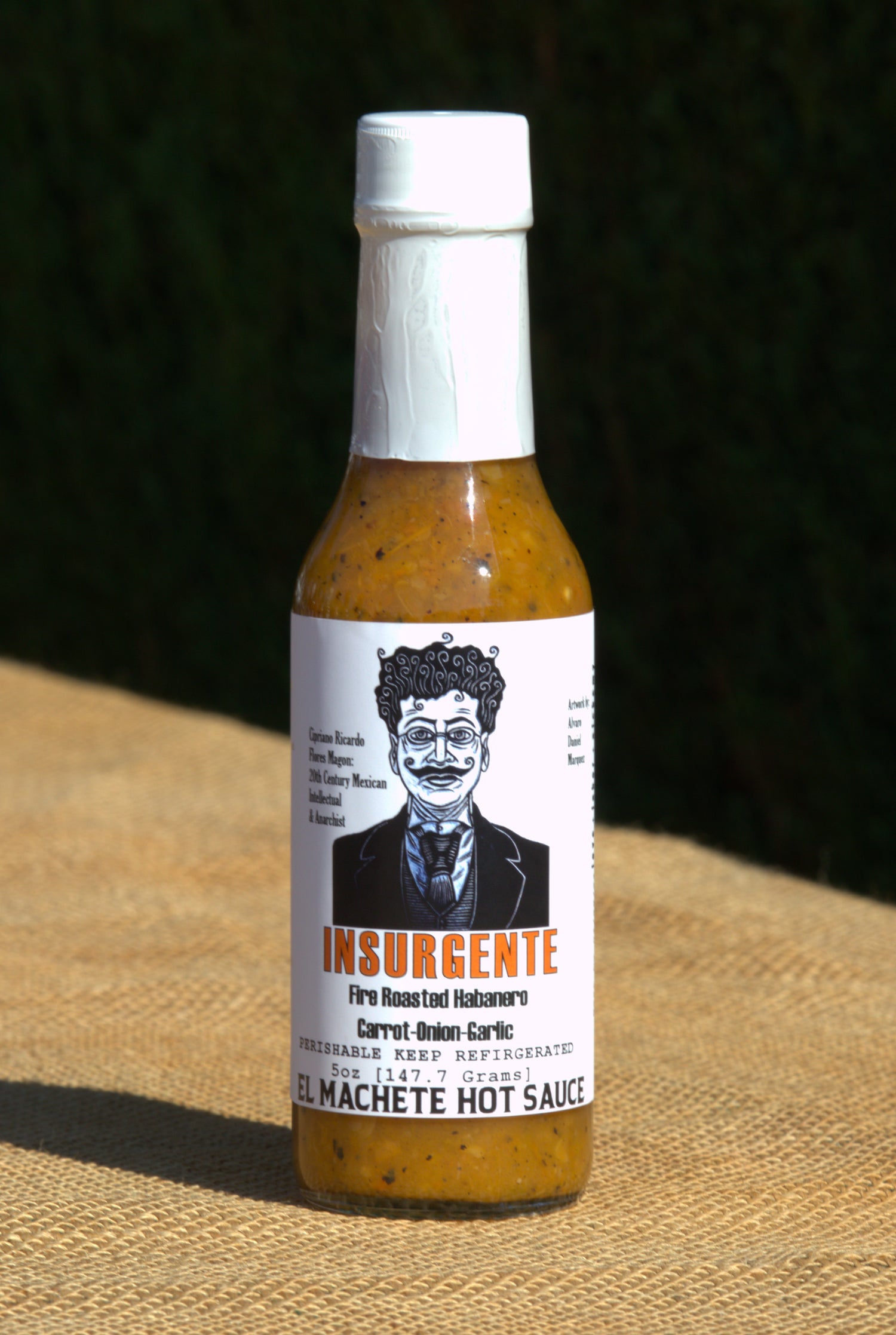 Insurgente
Insurgente is one of our most popular and unique sauce. It draws inspiration from Caribbean style ingredients such as fresh carrots, white onion, fire-roasted Orange Habanero chillies. Garlic forward notes is achieved with California grow heirloom garlic and olive oil, and enhanced with fresh oregano and cracked black pepper.
The ingredients produce a deep orange color profile, and the bright flavors are achieved with both white and apple cider vinegar and kosher salt.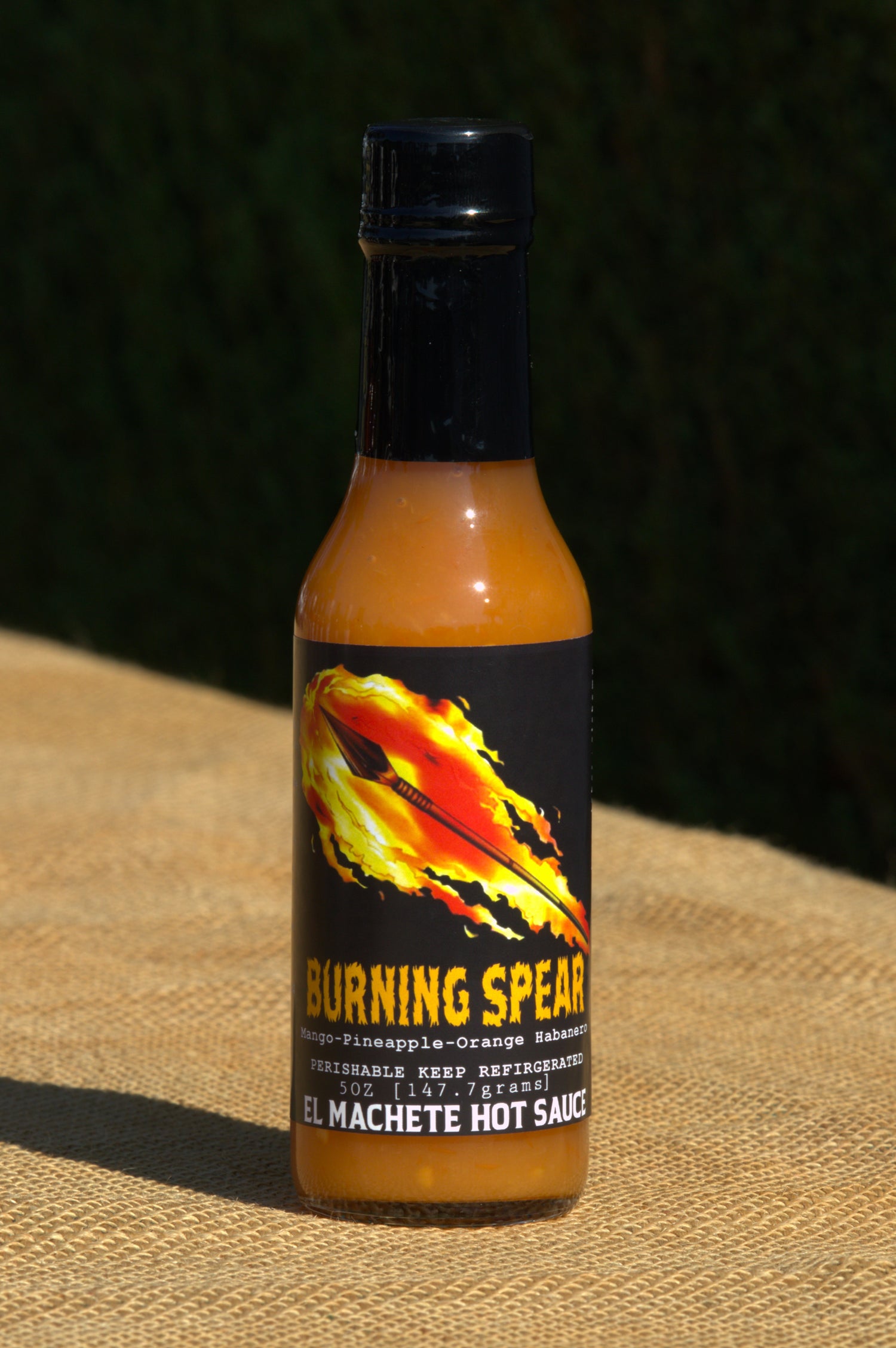 Burning Spear
For those with a slightly sweeter palate, this mildly sweet, yet invigoratingly hot, this sauce is made from orange Habanero chilli peppers, chunks of Mango, all natural pineapple juice, Christopher Ranch California grown heirloom garlic, white and apple cider vinegar, and Kosher/sea salt.
This sauce can enhance marinades, dressings, and can be
applied bravely to roasted chicken, grilled fish or shrimp, or spice up a chimichurri for grilled pork.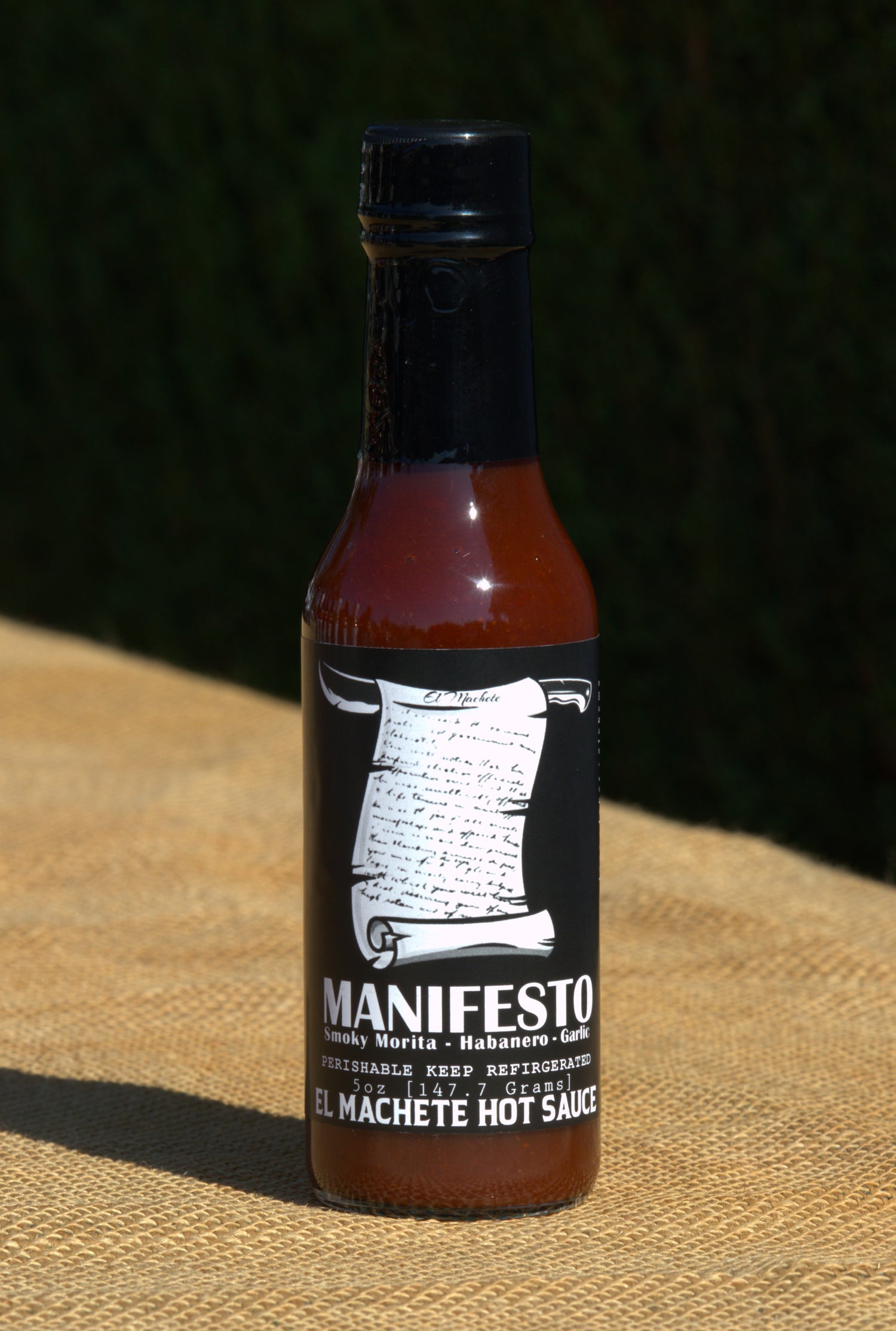 Manifesto
Manifesto is the first sauce created by the El Machete brand. This light, semi-sweet BBQ sauce character offers a savory, smoky, and tangy heat achieved by combining smoked Morita chillies, fire roasted Orange Habaneros, and toasted arbol chillies.
It's further layered with a blend of Mexican style spices, organic Agave nectar, white and apple cider vinegar, and Kosher/natural sea salt. Manifesto adds smokiness to dressings, steak sauces, roasted chicken, cheese sandwiches, pizza, cheeseburgers, and can heat up smoky Mezcal cocktails.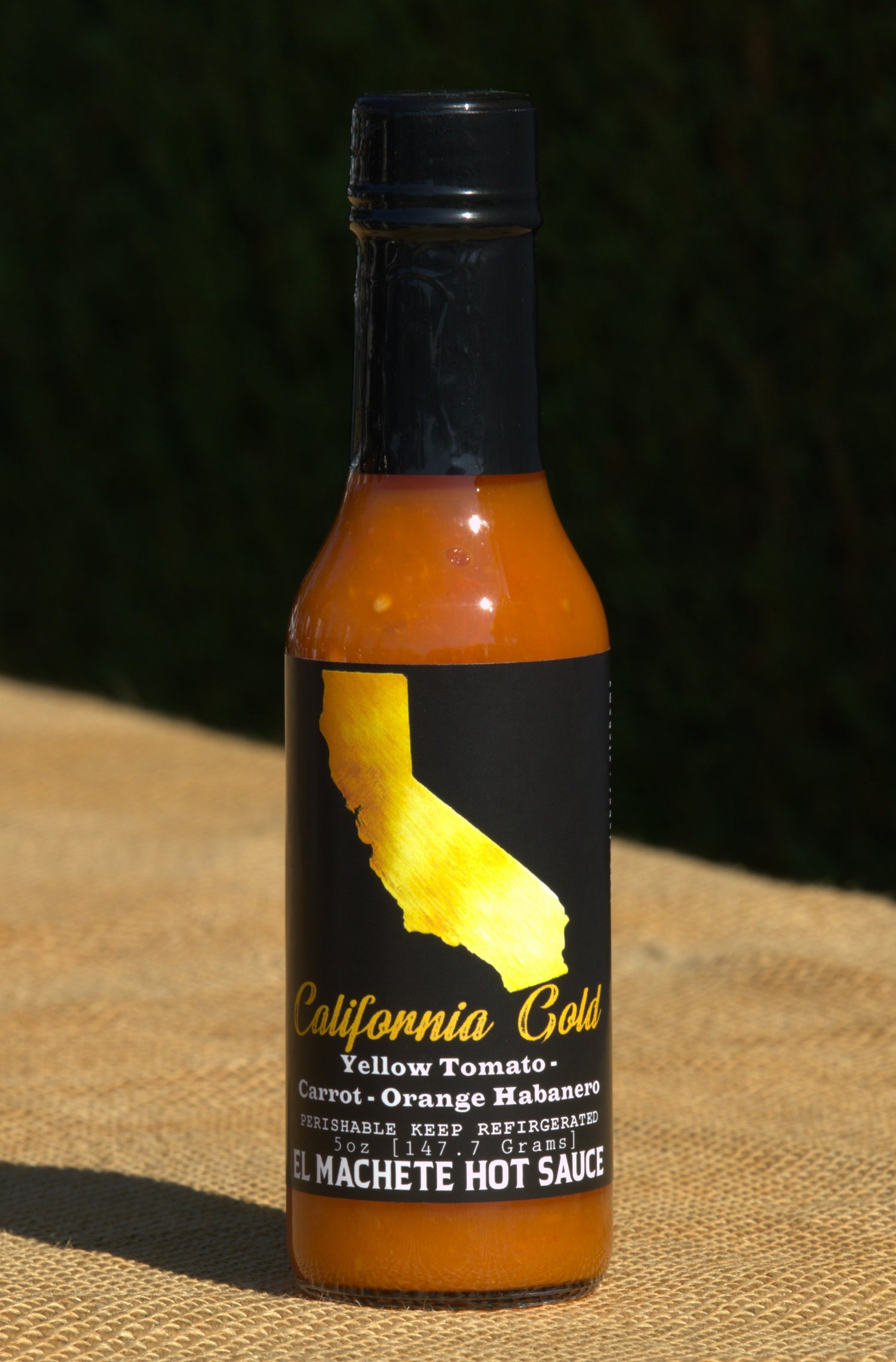 California Gold
This Hot Sauce has a Rich & Mild Sweetness from our Yellow Tomatoes & Carrots, and is further advanced with the heat & fruitiness of Orange Habanero, and finished with caramelized garlic.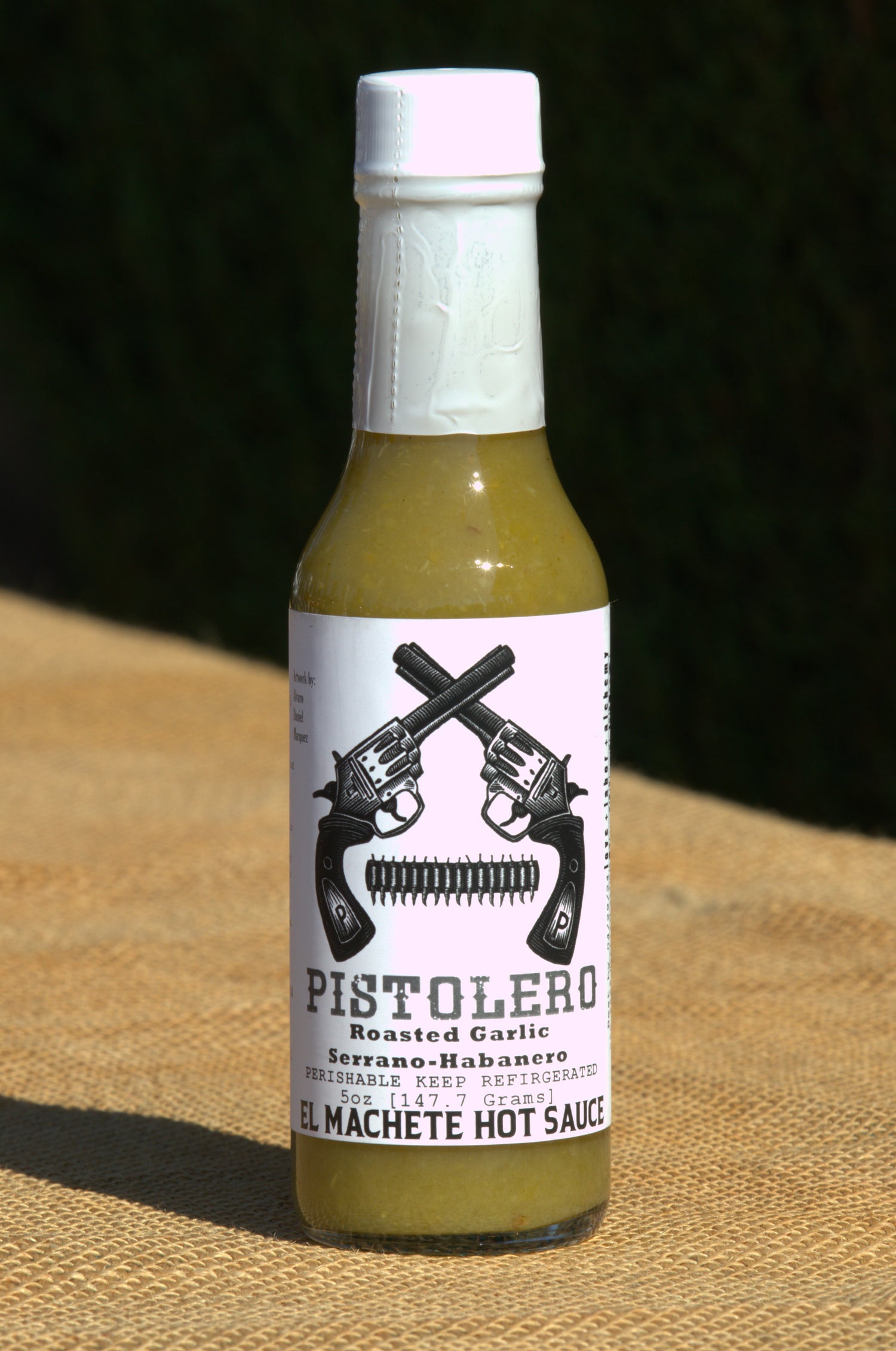 Pistolero
This smooth & garlic forward Sauce is tangy & bright, with the perfect blend of Green Serrano & Orange Habanero Chiles.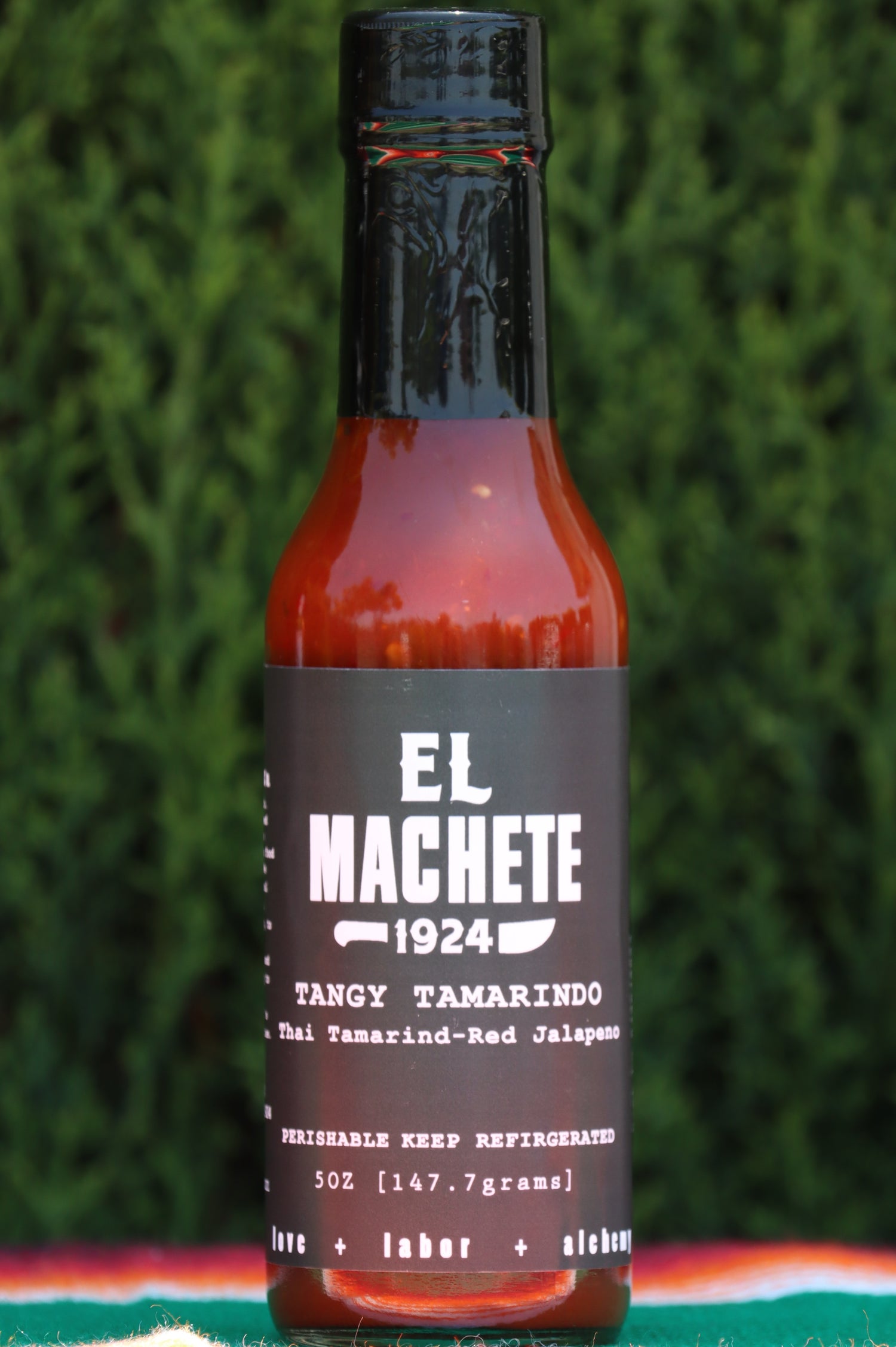 Tangy Tamarindo
This Hot Sauce is tangy, sweet, & Tamarindo forward.
It's made with locally grown fresh Red Jalapeños, Orange Habaneros, Thai-Tamarindo, apple cider, white distilled vinegar, filtered water, California Garlic, Sea salt, & organic cane sugar.
L.A. Taco
This special sauce is a part of our annual collaboration with L.A. Taco, known for their local food journalism in the greater Los Angeles area.
This sauce has blend of Red Jalapeño, Orange Habanero, and Mexican style spices.

This sauce is great for breakfast tacos, burritos, marinades, and more.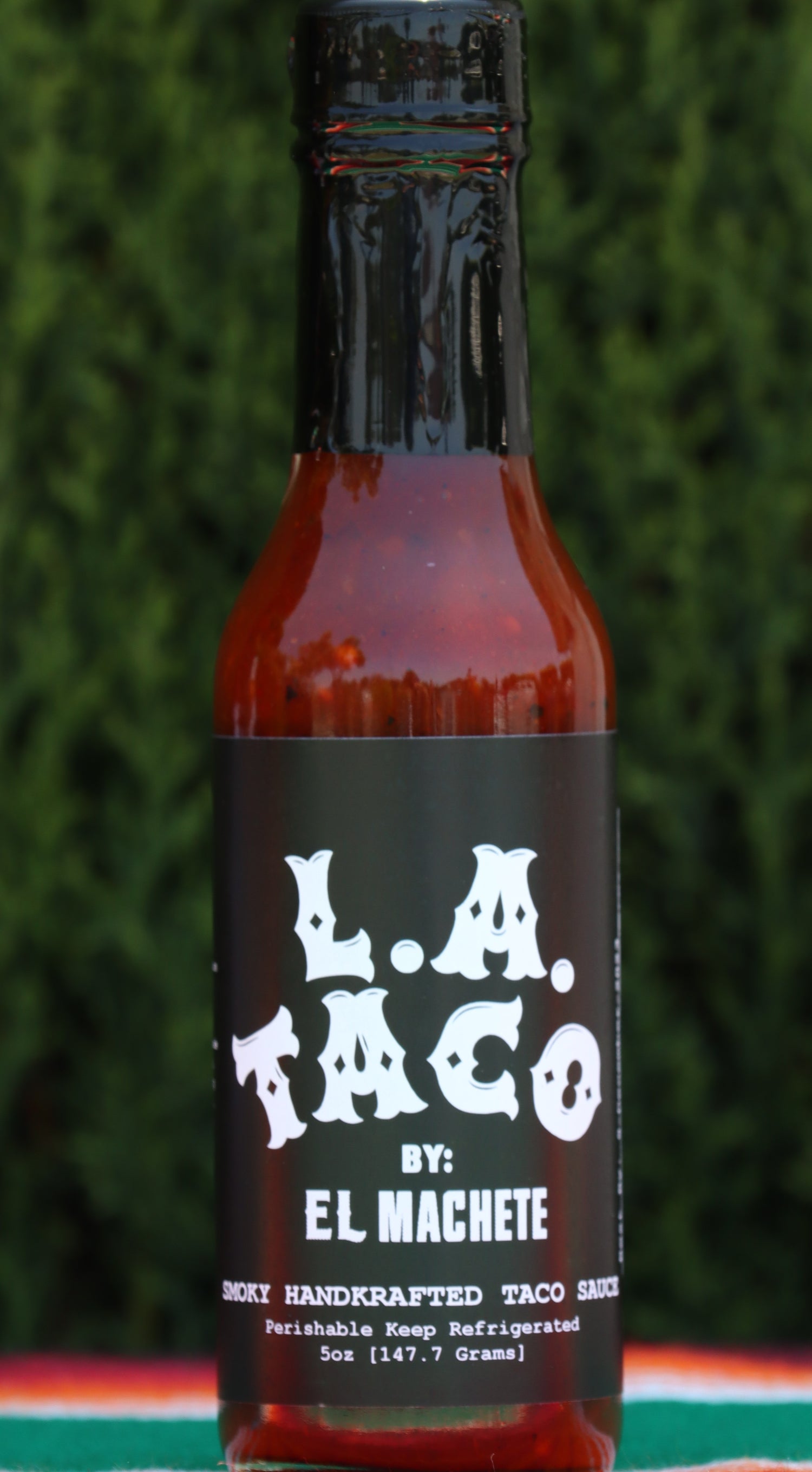 Smoky L.A. Taco
As part of our continuing collaboration with L.A. Taco team, we've added a Smoky style Hot Sauce to compliment the classic red.
This sauce while still made with the classic red's ingredients, is beefed up with Smoky Morita, and Arbol Chiles from Mexico.
This sauce is great on sliced avocados, scrambled eggs, vinaigrettes, dips, BBQ style foods, mac n' cheese, and more.
Kickboxer
This is our Sriracha style sauce inspired by the Thailand classic from the Si Racha region.
Our version is mildly sweet, garlicky, & fruity with Red Jalapeño.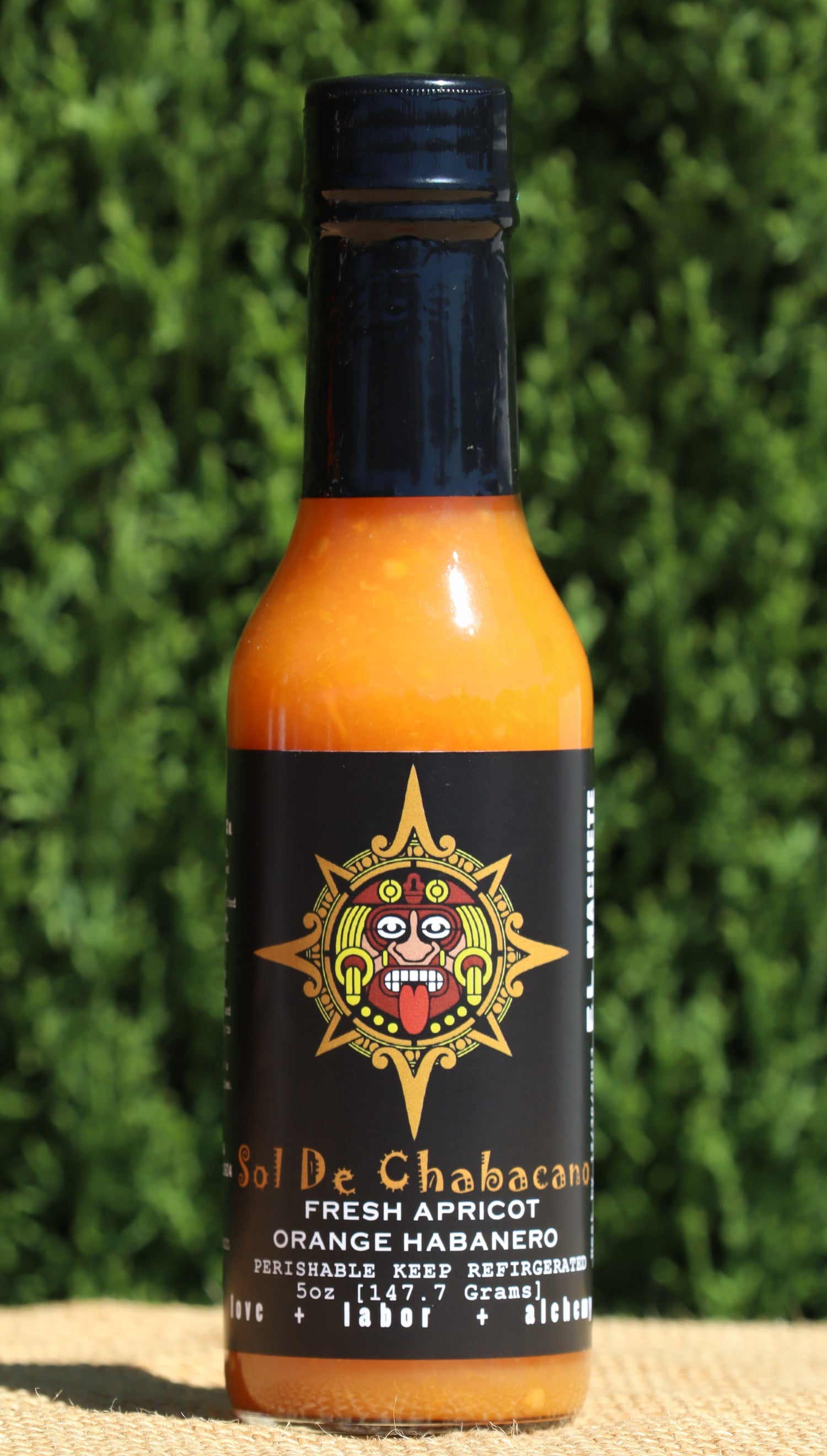 Sol De Chabacano
This tangy sauce is made from locally sourced and Organically grown Apricots, Mexico grown Orange Habaneros, California Organically grown Golden Raisins, white vinegar, and sea salt.
This sauce is tangy, bright, mildly sweet, and is great for ceviche, grilled cheese sandwiches, pizza, seafood, lobster. and more.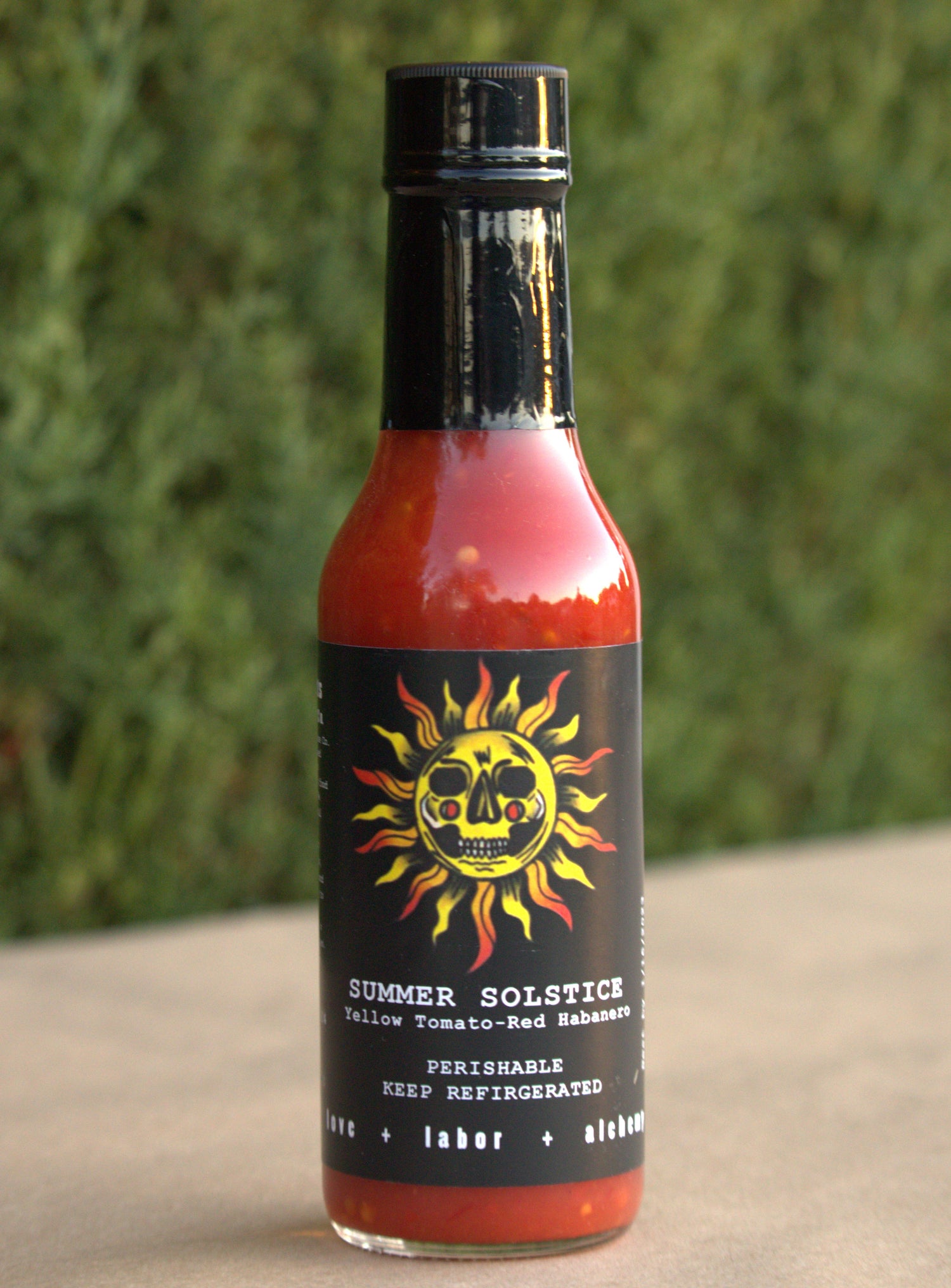 Summer Solstice
This Hot Sauce has a Rich & Mild Sweetness from our Yellow Tomatoes, and is further advanced with the heat & fruitiness of Red Habanero.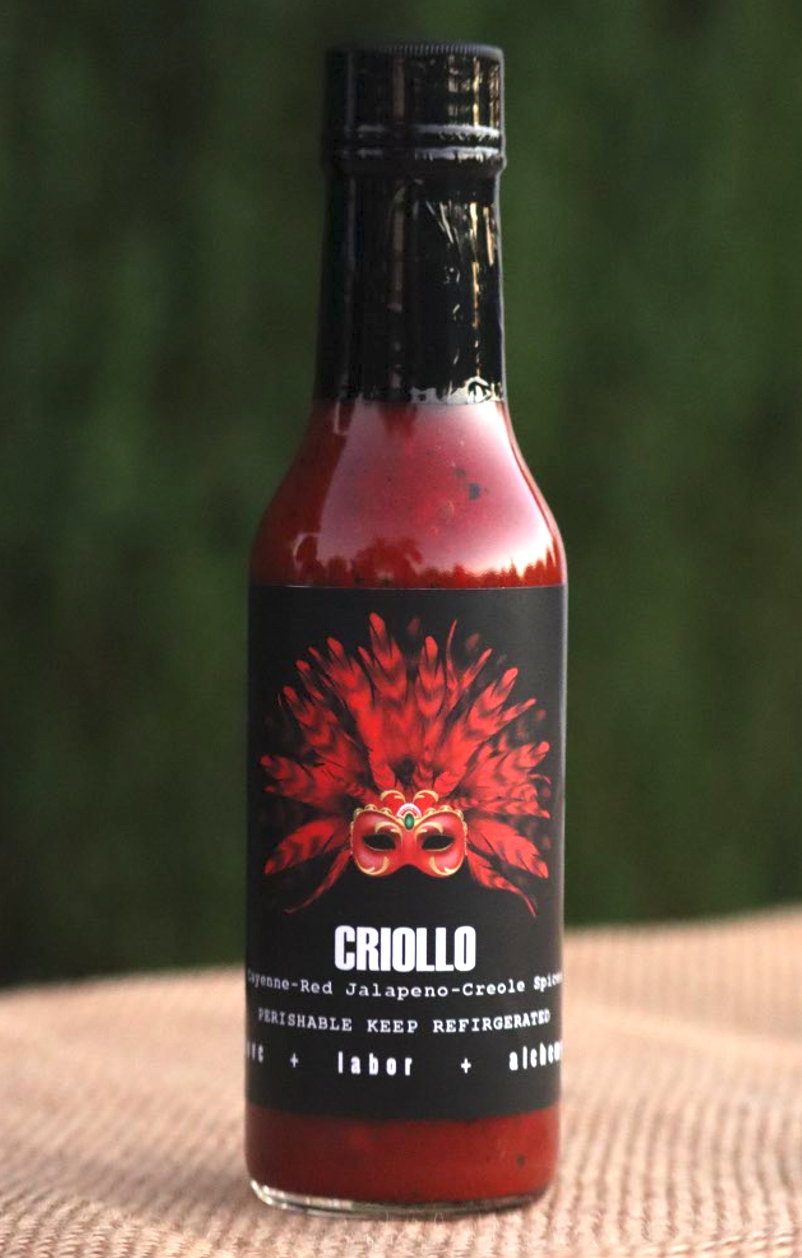 Criollo
This sauce is inspired by the cultural history and cuisine of Louisiana with El Machete's fire roasted touch.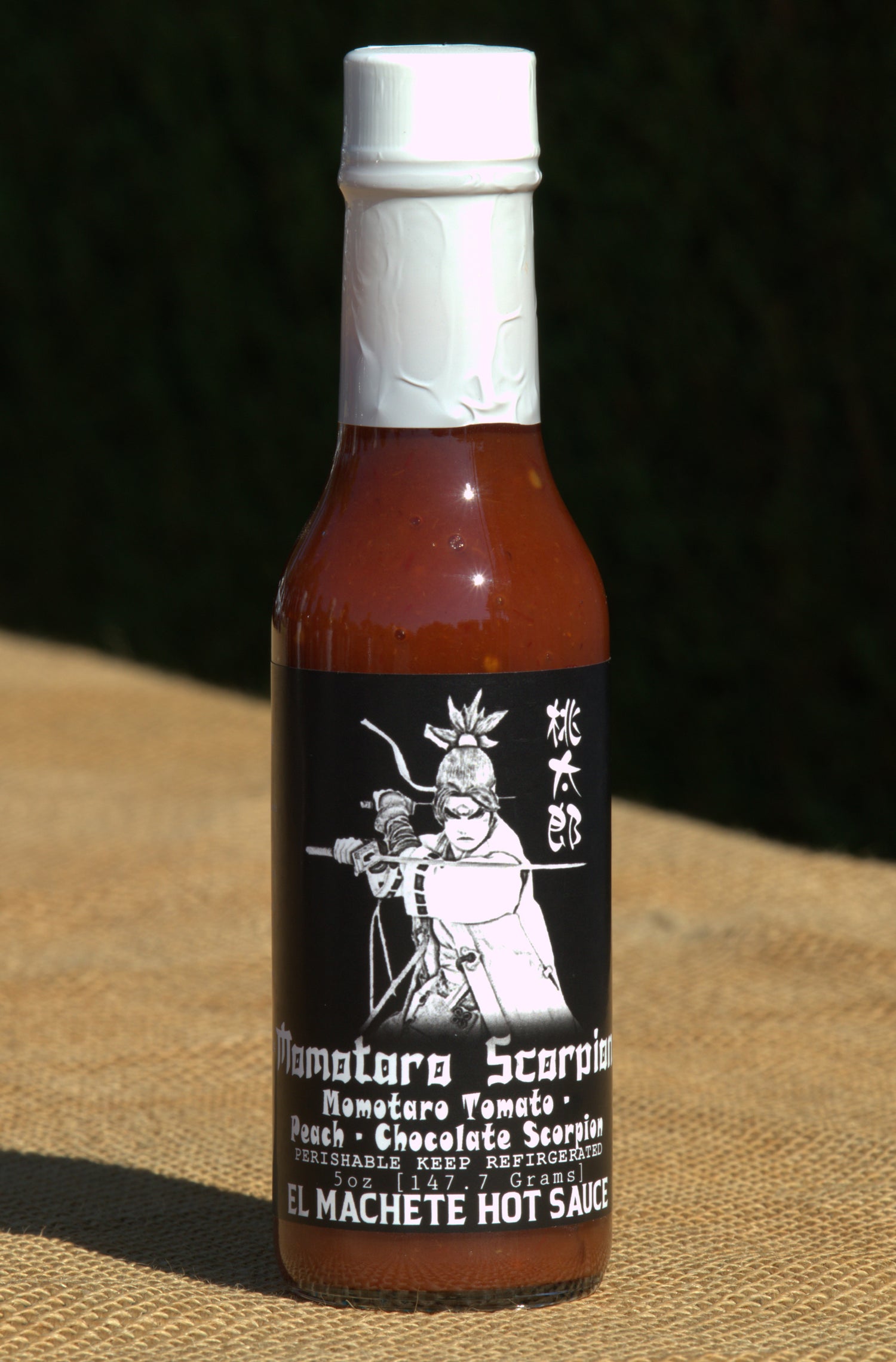 Momotaro Scorpion
This Umami bomb is made with locally sourced ingredients: Japanese Momotaro Tomato, Peach, Fermented Miso Pastes, raisins, and ripe Red Chile Serranos.
This Sauce also contains Netherland-grown super hot Chocolate Scorpion Peppers.
Put this super hot on seafood, ceviche, pasta dishes, pizza, michelada, marinades, other sauces, dips, and more.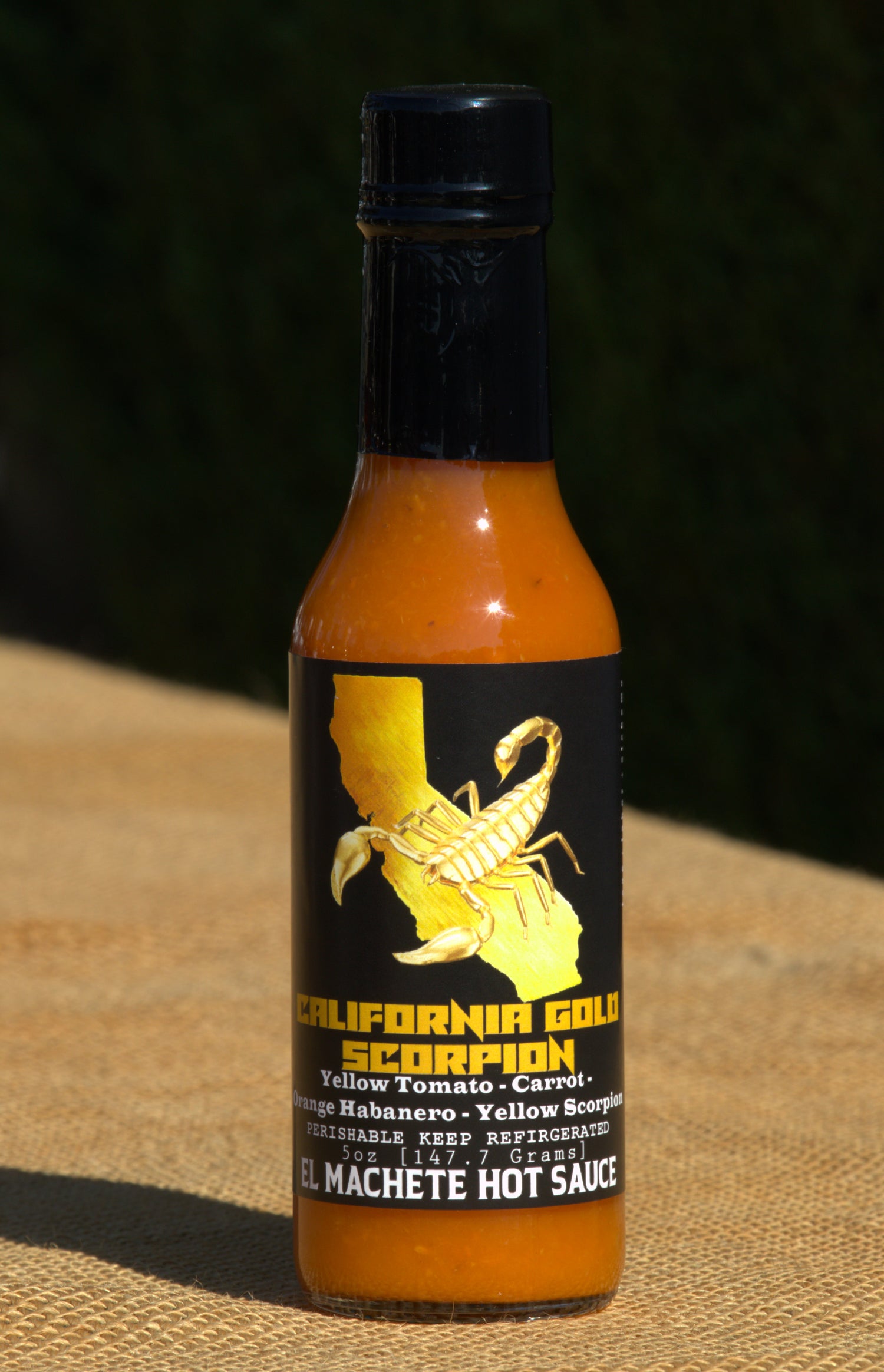 California Gold Scorpion
Like our classic C.A. Gold, this special Hot Sauce has the Rich & Mild Sweetness from our Yellow Tomatoes, Carrots, California-grown Golden Raisins, Miso Paste, and with the added fire power of Netherland-grown Yellow Scorpion Peppers.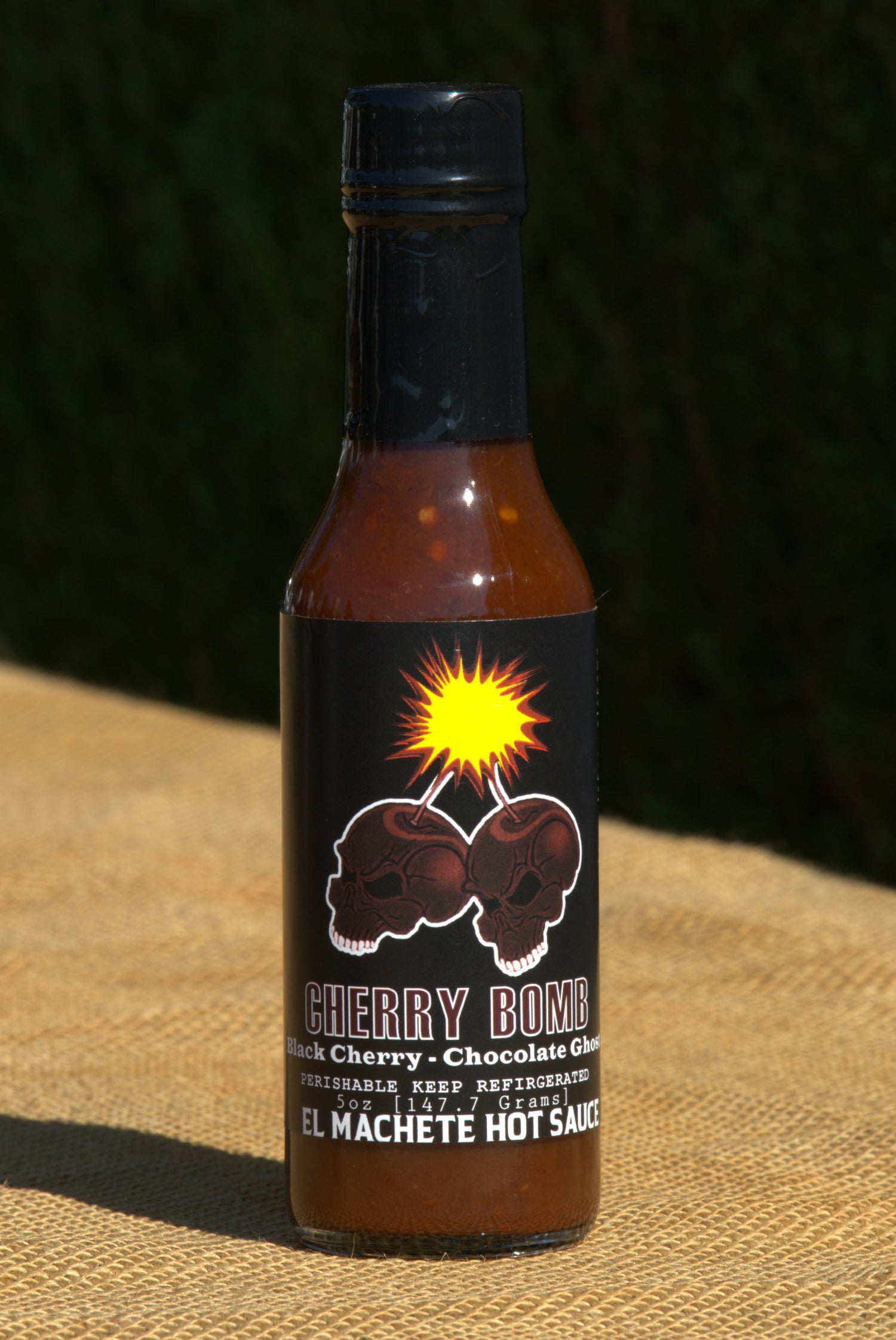 Cherry Bomb
This special Sauce is fruit forward with a combination of Dark Cherries, locally farm-grown California Raisins. Netherland-grown Chocolate Ghost Peppers, and fermented non-GMO Miso Paste.

Perfect for anyone who enjoys a rich & hot flavor bomb.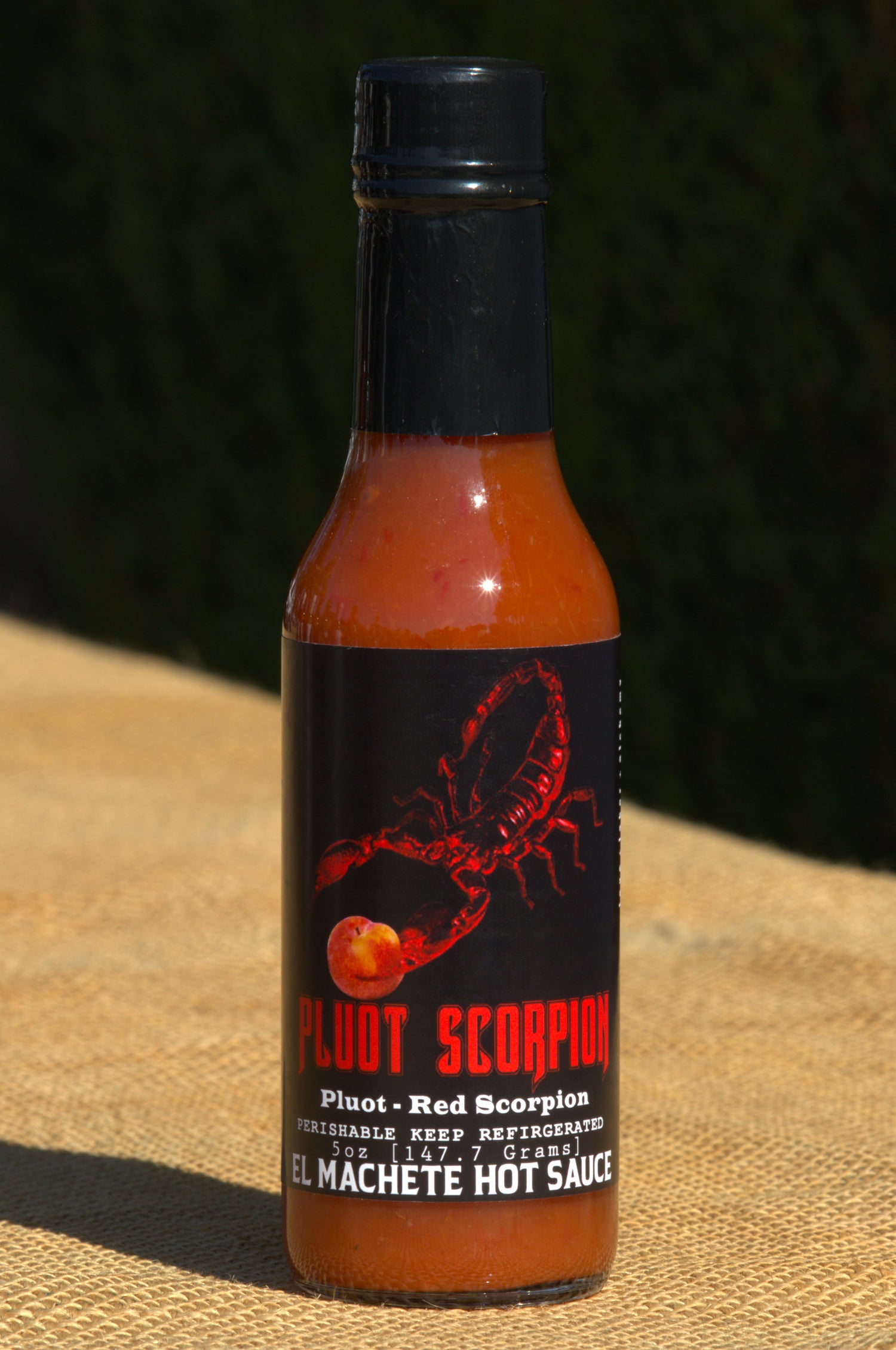 Pluot Scorpion
This special Red Sauce is boldly fruit forward with a combination of Pluot (Plum - Apricot), locally farm-grown California Golden Raisins. Netherland-grown Red Scorpion Peppers, and fermented non-GMO Miso Paste.

Perfect for anyone who enjoys a rich & hot flavor bomb.